CTV vs. OTT advertising: what you need to know
With billions of hours of binge-worthy content available at our fingertips, streaming services are making the world go round. And whether it's down to the accessibility of high-speed internet or the content-binging behavior that we've latched onto during COVID-19 lockdowns, the streaming wars have sparked a new innovation in marketing: CTV and OTT advertising.
CTV and OTT explained
Marketers keep using the words CTV and OTT. But do you really know what they mean?
If you're unsure, then you're not alone — in fact, the two terms are often used incorrectly. Let us clarify!
What is OTT?
Over-the-top, or OTT for short, refers to digital content such as video and music streamed  on TV, mobile, tablet, and desktop devices via apps or websites. The term originates from digital cable boxes that once sat on top of televisions — and also reflects the fact that it goes over the top of traditional cable providers. 
But be careful. There's a clear distinction to be made between OTT devices and OTT platforms.
CTV devices are those you use to consume streaming content, excluding desktops, laptops, mobile devices, and tablets. In other words, the term covers things like Smart TVs, Apple TVs, Chromecast, Amazon Fire Sticks, gaming consoles (Playstation, Xbox), and Roku.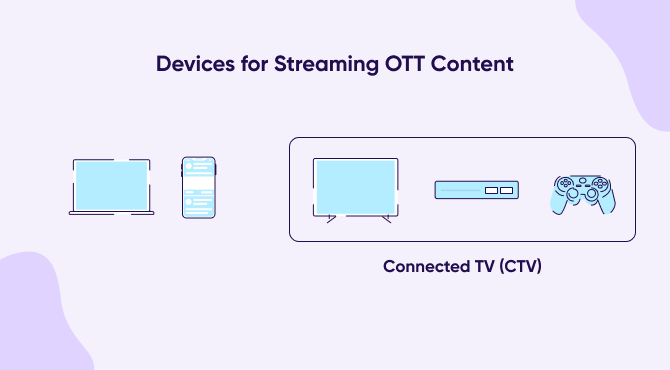 OTT platforms are the services that provide the content to stream, including Netflix, Disney+, Pluto TV, Hulu, Tubi, Peacock, Paramount+, Apple TV, and more.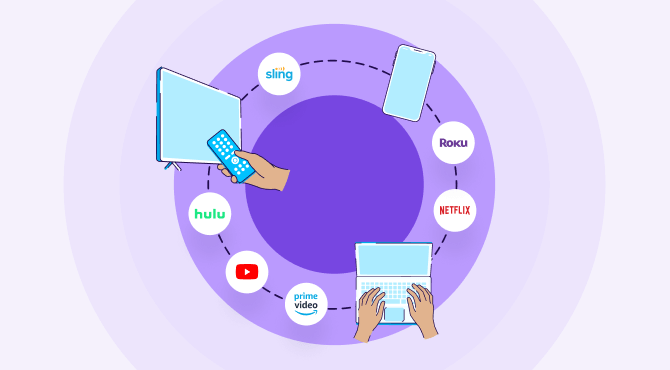 OTT has really taken off in recent years thanks to wider internet access and more affordable technology. OTT advertising, which we'll dive deeper into later, is also a result of advances in machine learning and AI technology, making it possible to deliver video ads automatically, dynamically, and most important of all — quickly.
What is CTV?
A connected TV, or CTV for short, is the physical device a customer uses to watch and stream video content online. There are three categories for CTV: it could be a Smart TV, a gaming console, or a streaming stick like Amazon Fire Stick or Chromecast.
What's the difference between CTV and OTT?
OTT is the umbrella term that covers the delivery of video content via the internet with any device. CTV refers to the physical device that delivers the video content, like the Amazon Fire Stick, Apple TV, Roku, or Chromecast.
The history of CTV and OTT
Sharing fond memories of visiting your local Blockbuster every weekend is a surefire way to show your age. The birth of CTV is often attributed to the arrival of Netflix, and its role in driving Blockbuster out of business in 2007. But there's more to it than that, if you're ready to dive a little bit deeper into the history of digital streaming.
Streaming came in a Flash
Soon after that, Adobe Flash paved the way for video streaming through video-hosting websites. In 2005, Steve Chen, Chad Hurley, and Jawed Karim launched YouTube, which was then powered by Flash Player. In just a few months, they served 30,000 views per day and surpassed 25 million just a year later. 
The start of the streaming wars
In 2019, on the tail end of the so-called second golden age of television and the post-network era, the streaming wars began. This phase marked the monumental behavioral shift from traditional cable watchers to cord-cutters, prompting a rush of networks pushing video-streaming services to offer exclusive video content, deter piracy, and most obviously, sell ad space.
Then came the ads
Naturally, as streaming subscriptions ballooned, marketers were quick to jump on board. Major strides in programmatic advertising have made the automation of buying and selling ad placements on streaming platforms easier and more effective than ever before. 
Benefits of CTV and OTT
CTV and OTT have a lot going for them, especially when pitted against traditional television. From the wealth of first-party data to the speed of ad delivery, OTT and CTV advertising is improving by the day.
More data, greater precision
OTT advertising technology offers advertisers the data they need to reach users based on their demographics, interests, context, time of day, device, and geography. Linear TV, on the other hand, relied solely on general Comscore and Nielsen data that had huge margins of error and, at best, served top-of-funnel campaigns. 
Versatile amid changing regulation
Privacy changes are impacting the way data is managed and gathered, but CTV has proved resilient in the face of changing regulation. That's because CTV doesn't rely on cookies or IDFA, which makes its first-party data incredibly valuable for advertisers.
Challenges of CTV and OTT
In the grand scheme of digital advertising, CTV and OTT are fairly new kids on the block. And, while they show a lot of promise, there are some drawbacks to consider before putting all your eggs in the streaming basket. 
Building awareness, but not clicks
OTT content is viewed fairly passively, whether that's binge-watching on the couch or on the second monitor during work hours. This makes it more difficult to drive clicks compared to a more engaging platform like mobile gaming ads. However, advertisers may counteract this by measuring brand lift in accordance with when ads are shown.
Ad offerings are still maturing
While Netflix's ad-supported tier steals most of the headlines, the advertising technology at Hulu+ remains the leader in the space. However, advertisers are still finding some limitations in diverse advertising offerings while OTT platforms continue to invest and build out their ad products.
What's the future of OTT and CTV?
OTT and CTV consumption isn't slowing down, which presents a golden opportunity for advertisers. But how long can this growth be sustained? And how can advertisers be supported effectively through the growing pains? To tackle these burning questions, here are a few of our predictions for OTT and CTV.
98% of brands believe CTV advertising will be bigger than mobile advertising
According to our 2023 CTV trends report, 98% of brands believe CTV ads will overtake mobile advertising to engage with new audiences, increase engagement levels, and capitalize on higher LTVs. The biggest draw, though, is CTV's measurability, which comes at a premium at a time where mobile targeting is challenged by ongoing IDFA-restrictions.
OTT revenue isn't slowing down any time soon
Statista estimates that the annual growth rate for OTT advertising is 10.75%, with a projected market volume of $207.30 billion by 2027. This is based on the fact that revenue in OTT is projected to reach $137.80 billion in 2023.
Consumers are willing to see ads on CTV, especially if they're personalized
According to 2023 CTV trends report, only 14% of consumers are willing to pay for ad-free CTV, regardless of price. 30% don't care about ads at all, and 26% will stop watching if ads are added. On average, consumers are willing to watch 1.8 ads within 30 minutes, but that goes up to 5.8 ads if those ads are highly personalized.
Key takeaways
OTT (over-the-top) is the umbrella term that covers the delivery of video content via the internet with any device. CTV (connected TV) refers to the physical device that delivers the video content.
Connected devices and OTT devices are synonymous.
The primary OTT ad models include subscription video on demand (SVOD), transactional video on demand (TVOD), advertising-based video on demand (AVOD), and a hybrid model.
From the wealth of first-party data to the speed of ad delivery, OTT and CTV advertising is a major leap forward for advertisers who traditionally invested in linear TV.
Advantages of OTT and CTV advertising include more and better data, which enables greater personalization of ads without falling foul of privacy regulations, and greater control over ad placement.  
The major drawback to OTT and CTV advertising is the existence of ad fraud in the form of device spoofing (impersonation), multiple device spoofing, and SDK hacking.
OTT advertising is to grow at a rate of 10.75% per year, reaching a projected market volume of $207.30 billion in 2027.